January 10, 2022
Internship Newsletter
Special Monday Edition!
***Check out the latest Internship Opportunities!***
News: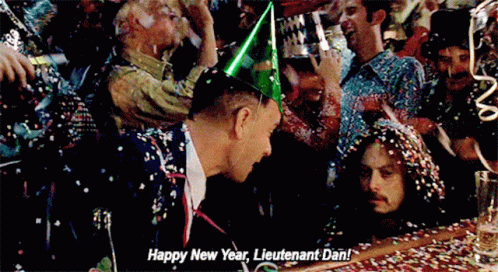 Whether you're a Forrest or more of a Lieutenant Dan, we here in Industry Relations would like to wish you a very Happy New Year and welcome back to your regularly scheduled Internship Newsletter!
A quick refresher on what we're all about:
What is this newsletter? This newsletter will always include the latest information about internship opportunities. It will arrive every Wednesday for the duration of the semester but we're kicking things off with a special Monday edition.
How should you use this newsletter? The link at the top of the page and the summary at the bottom will always take you to http://cinema.usc.edu/internshipopportunities and show you the very latest information on internships available in the entertainment industry.
How do I start? You don't need anyone's permission to apply for listed internships, but we strongly recommend you engage with some of our resources to prepare and make your application as good as possible. Recordings like the Resume Bootcamp are a great place to start. See the "Recordings" header below for more.
What else you got? Ok, rude. But since you asked, we will also direct you to fantastic seminars, workshops and info sessions from various sources at USC. Just in the next TWO DAYS there are multiple events hosted by the USC Career Center (not SCA-specific) that you can see below! Sign up quick!
Career Center Events:
How to Secure an Internship Webinar
January 11th 3:00 - 4:00 PM PT
Learn how to find an internship, what qualifications or classes are necessary, and what to expect from the internship experience. RSVP on connectSC to receive the link.
Career and Internship Connections (CIC) Virtual Career Fair
January 12 11:00AM - 2:00PM PT
The USC Career Center is a member of the Career and Internship Connections (CIC). Established in 1998, the CIC is a 14-school consortium that holds an annual job and internship fair for opportunities in the New York area. Register here.
Interact with Alumni Through the Trojan Network
January 12 2:00PM - 3:00PM PT
Tap into the extraordinary experience of engaging our alumni. Let them help you explore internships, careers, graduate school, and more. Register now!
Recordings:
Check out the recordings below for details on how to get your application in great shape before another internship opportunity passes you by:
You can also check out all the fantastic info in the recordings from the USC SCA Fall Career Fair.
As always, please contact internships@cinema.usc.edu if you'd like information or advice about internships at SCA.
Internships currently listed on the Opportunities page:
Golden Hippo, Post Production, Spring 2022 Internship
Sun Entertainment Culture, Spring 2022 Internship
Westbrook Studios, Spring 2022 Internship
WarnerMedia, Summer 2022 Internships
Hello Sunshine, Film & TV, Spring 2022 Internship (Paid)
Television Academy, Various, Summer 2022
Disney, Various, Summer 2022 Internships
Product Design Internship, Disney Animation
Harbinger Pictures, Spring 2022 Internship
XYZ Films, International Sales, Spring 2022 Internship
Ubisoft Film & Television, Spring 2022 Internship
Underground, Spring 2022 Internship
Mandeville, Spring 2022 Internship
Content Superba, Spring 2022 Internship
The Red Door Films, Editing, Spring 2022 Internship
Baobab Studios, Development and Social Media, Spring 2022 Internships
Drive Studios, Spring 2022 Internship
Jeff Friday Media, Spring 2022 Internships
World Builder Entertainment, Spring 2022 Internship
Arnold, LLC, Spring 2022 Internship
Iwerks & Co, Spring 2022 Internship
Hyperion Talent Agency, Spring 2022 Internship
Pixar, Summer 2022 Internships
Animation Intern - Summer 2022
Animation Technician Intern - Summer 2022
Editorial Intern - Summer 2022
Pixar Undergraduate Program (PUP) - Summer 2022
Public Relations Intern - Summer 2022
Software Engineer Intern, Applications - Summer 2022
Software Engineer Intern, Core - Summer 2022
Software Engineer Intern, Renderman - Summer 2022
Technical Director Intern, Character Shade/Groom - Summer 2022
Technical Director Intern, Global Technology - Summer 2022
Wonder Worldwide, Spring 2022 Internship
Marsh Entertainment, Spring 2022 Internship
Harbinger Pictures, Spring 2022 Internship
Anon. Talent Management Company, Spring 2022 Internship
Lucky Dog Films, Spring 2022 Internship
Mad Massive Entertainment, Spring 2022 Internship
Mark Victor Productions, Spring 2022 Internship
Three Things Productions, Spring 2022 Internship
Electric Entertainment, Spring 2022 Internship (Paid)
Getty Marrow, Summer 2022 Internships
MACRO, Spring 2022 Internships
Bold Films, Spring 2022 Internship
SK Global Entertainment, Spring 2022 Internship
Unicorn Island Productions, Spring 2022 Internship
Lunacy Productions, Spring 2022 Internship
Anchor Entertainment, Spring 2022 Internship
No Trace Camping, Spring 2022 Internship
FlynnPictureCo, Spring 2022 Internship (Remote)
Dirty Films, Spring 2022 Internship
Dead Duck Films, Spring/SUMMER 2022 Internship (Paid)
Housefire Management, Spring 2022 Internship
Grey Matter Productions, Spring 2022 Internship
Vertigo Entertainment, Spring 2022 Internship
Disney Animation Studios, Various, SUMMER 2022 Internships
Aggregate Films, Spring 2022 Internship
Katch, Media Analysis, Spring 2022 Internship (Remote)
Hasbro, Franchise Strategy - Action Brands, Spring 2022 Internship
Electric Somewhere, Spring 2022 Internship
Groundswell Productions, Spring 2022 Internship
Phoenix Pictures, Spring 2022 Internship
Highland Film Group & The Avenue, Sales, Domestic & International Theatrical, Spring 2022 Internship
Highland Film Group & The Avenue, Acquisitions & Development, Spring 2022 Internship
Paradiso US, Spring 2022 Internship
Horseless Cowboy, Spring 2022 Internship
Marsh Entertainment, Spring 2022 Internship
Baha Productions, Spring 2022 Internship
Empirical Evidence, Spring 2022 Internship
Zucker Productions, Spring 2022 Internship
3311 Productions, Research, Spring 2022 Internship
Population Media Center, US Content Development, Spring 2022 Internship
Scissor Films, Lighting, Spring 2022 Internship
Silk Mass, Creative Development, Spring 2022 Internship (Remote)
Cannes Film Festival Student Programs, Spring/Summer 2022
Elevated Films, Spring 2022 Internship (Remote)
Aperture Entertainment, Spring 2022 Internship
Free Association, Spring 2022 Internship
The Radmin Company, Spring 2022 Internship
INE Entertainment, Production/Development & Marketing/Advertising, Spring 2022 Internship
Faster Horse Pictures, Spring 2022 Internship (Remote)
Television Academy Foundation, Various, Spring and SUMMER 2022 Internships
Anonymous Content, Spring 2022 Internship (Remote, Paid)
Nine Stories Productions, Spring 2022 Internship (Remote)
FOX Entertainment, Various, Summer 2022 Internships
Mandalay Sports Media and Tollin Productions, Development, Production, Post Production, Spring 2022 Internships
Fourward, Spring 2022 Internship
Rideback, Spring 2022 Internship
Manage-ment, Spring 2022 Internship
Seven Summits Management, Spring 2022 Internship (Remote)
Artists First, Spring 2022 Internship
Samuel Goldwyn Films, Acquisitions and Development, Spring 2022 Internship (Remote)
STUDIOCANAL, Spring 2022 Internship
Di Novi Pictures, Spring 2022 Internship
First Story Entertainment, Spring 2022 Internship
NBCUniversal, Various, Spring 2022 Internships
ACE Entertainment, Spring 2022 Internships (Remote)
Aperture Entertainment, Spring 2022 Internship
XYZ Films, Spring 2022 Internship
Riot Games, Narrative Writing, Spring 2022 Internship
Mandeville Films, Development, Spring 2022 Internship
Delirious Media, Spring 2022 Internship (Remote)
Kamala Films, Spring 2022 Internship
Slash Management, Talent Management, Spring 2022 Internship
Slash Management, Production, Spring 2022 Internship
Airstrafe Interactive, Gameplay Programming, Spring 2022 Internship
Anon. Production Company, Spring 2022 Internship
Rebelle Media, Development, Spring 2022 Internship
Activision, Various, Spring/Summer 2022 Internships
Riot Games, Various, Spring 2022 Internships
Riot Games, Production Coordinator, Spring 2022 Internship
Riot Games, Video Editing Intern, Spring 2022 Internship
Share Labs, Production Coordinator Fellow, Spring/Summer 2022 Internship
Riot Games, Narrative Writing Intern, Spring 2022 Internship
----------------- Video Games Internships List -----------------
Contact Information
Name: Joe Brukner
Email: internships@cinema.usc.edu